Menu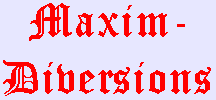 Privacy Statement
Maxim-Diversions.com
Maxim-Diversions.com has created this privacy statement in order to demonstrate our firm commitment to respect and protect your privacy. The following discloses our information gathering and dissemination practices for this website: Maxim-Diversions.com.
Links to other web sites
This site contains links to external sites. Maxim-Diversions is not responsible for the privacy practices or the content of other Web sites. We have visited all external sites and verified they provide useful information our visitors may find helpful.
Any links to external web sites will open in a new browser window.
Cookies and Data Retained
The Maxim-Diversions.com site Does not use cookies.
The only information stored from your visits to this site is the standard anonymous information in web server logs. We utilize these server logs solely for traffic statistics.
No personally identifiable information is ever stored on our servers.
Third Parties
We do not sell or transfer any information to third parties.
Email
You won't get unsolicited commercial Email or SPAM because you visited our site or contacted us.
Security
This site has security measures in place to protect the loss, misuse and alteration of the information under our control.
Contact Information
Our homepage on the Internet is located at http://www.maxim-diversions
Postal Mail
Maxim-Diversions
C/O Steven Ruhl
PO Box 488
O Fallon, MO 63366
USA

You may contact us by e-mail at Info
Dispute Resolution
Disputes will be handled by our customer support representative.
Our customer support will promptly respond to and correct any errors.
---
Navigating the site
To get around our web home, use the handy green Menu buttons,
or select a destination button from the list below:


Home Home
Genealogy Genealogy
Web Design Web Design
Web Links Web Links
Privacy Statement Privacy Statement
Enjoy the tour, remember always keep your right hand on the right hand rail,
your left hand on the left hand rail, and both hands on your wrists.