Menu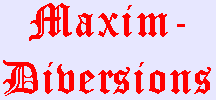 Web Design Services
Welcome to Maxim-Diversions Web Design Services
Maxim-Diversions builds high quality web sites for quite reasonable prices. Our web designs are:
Responsive
Platform Independent Design, renders well on any device whether PC, phone, ot tablet
Web Access Initiative 1A accessible design
Powered by HTML 5.0 and CSS 3.0 that renders corectly on any modern browser, no matter who makes it
Hand crafted in the USA, no code is software generated
Businesses
Every business needs a web presence today. Customers in the 21st century are much more likely to search the web before they dig out a phone book. We can meet your needs from a simple one page Web Presence sites to sophisticated eCommerce sites.
Is your business on the Web? The world is rapidly changing. Once, only high-tech businesses needed a Web presence. Today every business needs a presence on the Internet for the business to thrive and grow.
Your customers are increasingly more likely to search the Web for the products or services they seek, using a PC, Notebook, PDA or Smart Phone instead of letting their fingers do the walking. The web is faster and much more convenient than finding and searching in a phone book. Don't lose business to a competitor with a Web presence because your business is not on the Web for your customers to find.
Maxim-Diversions will get your business on the Web with a high quality, effective web sites for a very reasonable price. We offer everything from simple one page starter Web presence packages to sophisticated eCommerce Web sites, custom designed for you.
In addition we can assist you in promoting your products and services with Google Base listings to expand your Web presence.
Individuals
We can build a web site for you and your family. Tired of having to contact everyone in your address book each time you change Internet Service Providers? We can register your own personal domain with a permanent eMail address that will not change as you change ISPs. Want a family news site? Need a site for a family reunion, anniversary, etc.? Maxim-Diversions can create what you need.
For an example of our quality work, see the site we built for this satisfied customer - L84DNR. Local St. Louis Musicians, L84DNR, serve up healthy portions of Classic Rock, Blues & Country favorites, tastefully garnished with Pop, Mash-ups, and Originals.
Why choose Maxim-Diversions? The web sites we design are:
Custom created for you.
No cookie cutter, 'one size fits all' templates, like discount web site services employ. You want to stand out as an individual on the web, not look like every other web site in the same business category.
Optimized to load your pages quickly.
If your site loads slowly, the hard truth is that most visitors will abandon your site and go elsewhere. Web Surfer's have little patience, you literally have only seconds to grab and retain their interest. Flashy animated opening pages, while 'kewl', can literally drive away the audience you are trying to reach.
Accessible to everyone,
including individuals with disabilities. Our pages meet or exceed the accessibility requirements of:

U.S. Section 255 & Section 508
W3C Web Access Initiative

Viewable on any browser, on any device
our code adheres to standards and will render correctly on any standards compliant browser. You won't have to tell your visitors to get another browser if they want to view your web site correctly.
Standards Compliant.
We adhere to the W3C (World Wide Web Consortium) standards,
Certified to adhere to W3C HTML standards
to help ensure your site displays as intended on all platforms. You would never send out a brochure with no capitalization or punctuation, relying on the recipient to figure out what you really meant. Many web sites do the equivalent. Written poorly with grammatically incorrect code, these developers rely on the browser to figure out what they really meant despite incorrect coding. Browsers are pretty good at guessing what the developer meant to say. But, different browsers can and do make different guesses given bad grammar. We check our grammar to ensure the browser knows exactly what we want it to do and how to render it correctly.
Certified to adhere to W3C CSS We use CSS Style Sheets to provide the look of the web site, separating it from the page content. This makes changes easier and facilitates creating multiple renditions of the page for:

printing
viewing on PDA's and phones
viewing by persons with disabilities

without creating multiple, redundant copies of the page.

In many web pages the visual attributes are tightly bound to the content. Any change in the look of the site entails revisiting every page to tediously change the code. We keep content separate from the visual attributes using style sheets. Providing multiple renditions is simple and so are changes to the look of your web site.
Customizable with scripts
to enhance your site's functionality.
Customizable with Dynamic Content Generation.
Using XML and XSL Transformation we can dynamically generate pages from your database.
Stealthy.
We make your email links difficult to harvest by SPAMer's address harvesting software while remaining functional and easily clickable for your human site visitors.

Publish a web site with unstealthed email links and the spammers will find them and SPAM you long before search engines discover your site.
We handle the entire process from conception to published web site.
We will

Register your domain name
Set up and configure your web's hosting service
Configure your email accounts
Submit your site to search engines. To help you search engine ranking: we ensure your pages contain appropriate keywords, provide an XML site map to show search engines the structure of the web site.
Develop and publish your web site.

We provide support after the job is complete.
The system developers at Maxim-Diversions are experienced. Our lead developer was writing software for personal computers long before IBM coined the term Personal Computer (in those days they were called Microcomputers).
In addition to web design, our expertise includes:
XML and XSL Transformation
Java
JavaScript
C and C++
Databases
Desktop, Network, and Client/Server applications.
Networks - Wired and Wireless
---
Navigating the site
To get around our web home, use the handy green Menu buttons,
or select a destination button from the list below:


Home Home
Genealogy Genealogy
Web Design Web Design
Web Links Web Links
Privacy Statement Privacy Statement
Enjoy the tour, remember always keep your right hand on the right hand rail,
your left hand on the left hand rail, and both hands on your wrists.
---