Menu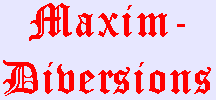 Welcome to Maxim-diversions.com
Our Maxim is Quality, Service & Value for Money
Home
Diversions
Genealogy is one off our many diversions. The Genealogy page links to a couple of family tree projects. The Ancestry of Robert Ruhl and Mary Farrier, our family tree. Pearl Diving is the tree of a former significant other.
Robert Ruhl and Mary Farrier Ancestry - Ruhl, Farrier, Ludden, Treesh, ... families in Michigan, Indiana, Ohio, Pennsylvania, New York, Massachusetts, England, Germany, Switzerland, Australia, New Zealand
Pearl Diving - Genealogy of Slaten, Schmidt, Hanlon families - Jersey, Greene, Macoupin and Madison Counties, Illinois
Genealogy Genealogy
---
Services
Web Design
Every business needs a web presence today. Customers in the 21st century are much more likely to search the web before they dig out a phone book. We can meet your needs from a simple one page Web Presence sites to sophisticated eCommerce sites. Maxim-Diversions builds high quality web sites for quite reasonable prices. Our web designs are:
Responsive
Platform Independent Design, renders well on any device whether PC, phone, ot tablet
Web Access Initiative 1A accessible design
Powered by HTML 5.0 and CSS 3.0 that renders corectly on any modern browser, no matter who makes it
Hand crafted in the USA, no code is software generated
Web Design Web Design
---
Navigating the site
To get around our web home, use the handy green Menu buttons,
or select a destination button from the list below:


Home Home
Genealogy Genealogy
Web Design Web Design
Web Links Web Links
Privacy Statement Privacy Statement
Enjoy the tour, remember always keep your right hand on the right hand rail,
your left hand on the left hand rail, and both hands on your wrists.